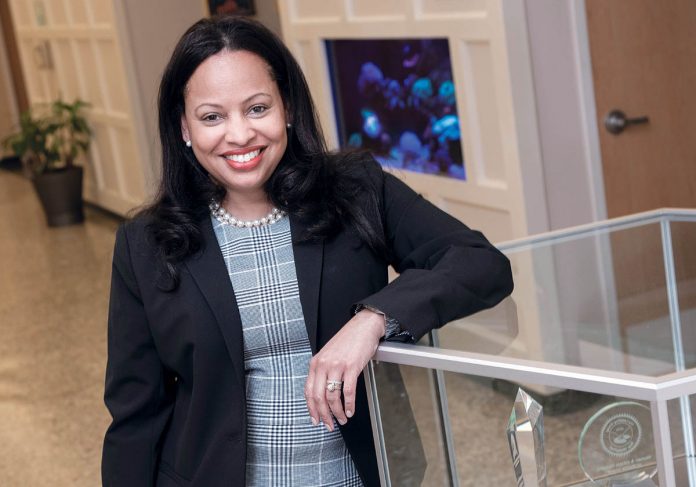 Industry Leader, Health Care Services | Colleen Ramos, Women & Infants Hospital
---
If you want to improve financial performance, start with good data.
That's the approach Colleen Ramos takes at Women & Infants Hospital in Providence. As the hospital's new vice president of finance, Ramos is working to overcome what so many medical facilities struggle with – breaking even.
"It's hard in health care," Ramos said. "What we get paid doesn't always cover our cost. We're always looking for new ways to do something different."
For Ramos, that means using data to make everyone at the hospital – from clinicians to department managers – more financially literate.
For example, to calculate how much the hospital pays to deliver a baby born to a drug-addicted mother, Ramos looks not only at the cost of delivery, but also at the costs involved with treating babies' underlying conditions. She then brings this data to clinicians, who oftentimes have no idea how much various treatments or equipment cost, or what rates insurance companies pay out.
"You know the outcomes clinically, but you don't know the outcomes from a business aspect," Ramos said. "And once you know that, it can help you make a different decision that doesn't impact the clinical outcome."
Ramos uses the data to work with clinicians on decisions that benefit patients and the hospital's financial performance. Sometimes this means negotiating with insurance companies to pay the hospital a higher rate. Other times it involves educating clinicians on which supplies are most economical.
"[Colleen] has the ability to make data and finance user-friendly to the leaders at Women & Infants," said Diane Rafferty, the hospital's interim president and chief operating officer.
Ramos also implemented new software systems to improve the hospital's data-gathering game. She rolled out StrataJazz a little more than a year ago, which brings together more than 100 feeds a day from Care New England's billing and clinical systems. This allows financial analysts to see which services the hospital is breaking even on and where it's losing money, as well as the factors that influence those outcomes, such as cost structures and physician utilization rates.
The software system spurred a new policy at Women & Infants. "Before anybody buys a new piece of equipment or starts a new service or makes any type of decision that would impact the bottom line, we have to provide this type of analysis before they do that," Ramos said.
'[Colleen] has the ability to make data and finance user-friendly.'
DIANE RAFFERTY, Women & Infants Hospital, interim president and COO
Ramos also works to educate the hospital's department managers through an ongoing data curriculum. Budgeting and projection software compiles monthly reports for each department, showing how much revenue they've generated, what they spent on salaries and supplies, how productive they've been and more. Department managers have the option of taking more-advanced trainings with the software to drill down into specific areas. This can allow them to quickly spot and fix issues such as payroll errors or excessive overtime.
"It allows frontline managers to monitor their activity, and be responsible for their productivity and speak to that, and be able to use that to change course," Ramos said.
Ramos' efforts to improve financial literacy at the hospital have earned her accolades from her colleagues.
"She also loves to teach and has developed her team to work at the top of their skill set and to continue to learn and grow professionally," said Gail Robbins, senior vice president of finance and planning at Care New England.
Ramos stepped into her current role in 2018 after serving as Care New England's director of strategic financial planning since 2017. She has 30 years of experience in the health care industry, holding finance roles at hospitals and medical facilities in Rhode Island, Massachusetts, New York and Washington, D.C.
"Colleen is extremely knowledgeable in decision support and budgeting for hospitals," said Marcia Caster, a senior financial analyst who reports to Ramos. "She is always willing to show you all she knows."