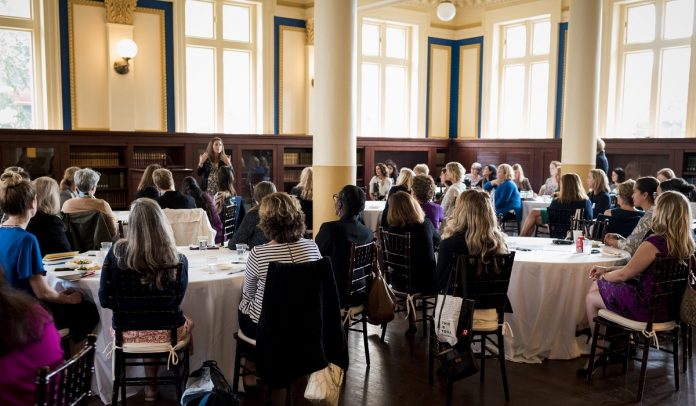 Cranston, R.I. – Friday, March 1, 2019—Over the last year, the Women in Leadership Nexus has cultivated a group of professional, purpose-driven women looking to reach a more amplified level of leadership through its Rhode Island Chapter. Today, the leadership development association celebrates its one-year chapter anniversary of uniting local women on the journey towards next-gen leadership.
When the chapter opened its doors on March 1, 2018, it started with 15 Founding Members who evangelized the group's mission. Today, the community has grown to more than 115 members—spanning all industries, professions and experience levels, while drawing in a membership base represented by women leaders in major RI-based corporations as well as industry-leading professionals-turned-entrepreneurs. Through quarterly leadership development seminars, bi-annual pop-up trainings and regular Member Meet-Ups, among other membership benefits, the Nexus creates space for women to come together to serve as the agents of change and co-creators of a different leadership paradigm.
"As women, we have the tendency to wait for a cosmic shift from the universe signifying that now is the time to step into our leadership path. But this waiting around keeps us in the passenger seat of our own lives," says Carrie Majewski, Nexus Founder and CEO. "At the Women in Leadership Nexus, we help our women recognize that they can be their own cosmic shift. We provide the trainings, relationships and perspectives so that our members can accelerate their leadership journey."
"In the last year, our organization has attracted the trailblazers, change-makers and leadership disruptors who are going forward and rocking the business world, subscribing to a new set of leadership ideals that result in more circular, more supportive and more successful workplaces. We call that next-gen leadership," she adds. "It's incredible to think about the impact we have already had in just 12 months, but our work is only just beginning. Our purpose remains creating next-gen leaders who will positively change the business landscape."
Over the last year, the Women in Leadership Nexus has had considerable impact on the local business ecosystem and the greater business community. Specifically:
• Upon joining Nexus, more than 12 percent of the Nexus member base launched their own RI-based businesses, with support from Nexus trainings, perspectives and relationships
• The Nexus blogging platform has featured more than 30 national and international bloggers and thought leaders, resulting in the platform being named to the "Top 20 Women in Leadership Websites and Blogs"
• Nexus has provided trainings on a number of pertinent leadership topics, from StrengthsFinder to diversity and inclusion to professional resilience to leadership presence
Most recently, the Nexus and its founder, Majewski, were named to the Rhode Island Inno's "50 on Fire" list, celebrating the early-stage businesses, enterprises and innovators who are doing "work to set the ecosystem ablaze," according to the online publication. What's more, though the professional association only has physical presence in Rhode Island, the movement has attracted national attention resulting in members from New York, New Jersey, Massachusetts and Connecticut joining the Rhode Island Chapter as Virtual Members.
This year, the organization is setting its sights on continuing to grow the reach and impact of the RI Chapter, while also formally launching a Virtual Membership that will allow women from all over the country to experience "The Nexus Effect," or Nexus sitting at the center of a member's professional, educational, development and personal spheres.
"The Women in Leadership Nexus has given me more confidence in myself, both professionally and personally, than I've ever had," says Sue Gardiner, Nexus Member. "The women who join this organization give so much of themselves to each other by sharing ideas and encouraging each other's goals, because collectively, we know this helps us all achieve more. We believe in each other! As possibility expands and my career grows, Nexus is, and will continue to be, the most significant and meaningful part of my journey."
"The biggest benefit Nexus has offered me as a first-time entrepreneur is access to a support system that is tailored to the way women think, build relationships, learn and thrive," says Courtney Fanning, Nexus Member. "Other professional groups are still presenting these outdated and frankly masculine approaches to leadership that always made me feel like I had to be someone I wasn't in order to succeed. I have found my home with Nexus and feel privileged to play a part in its growth."
To request to join the Rhode Island Chapter of the Nexus, visit: www.wilnexus.com.