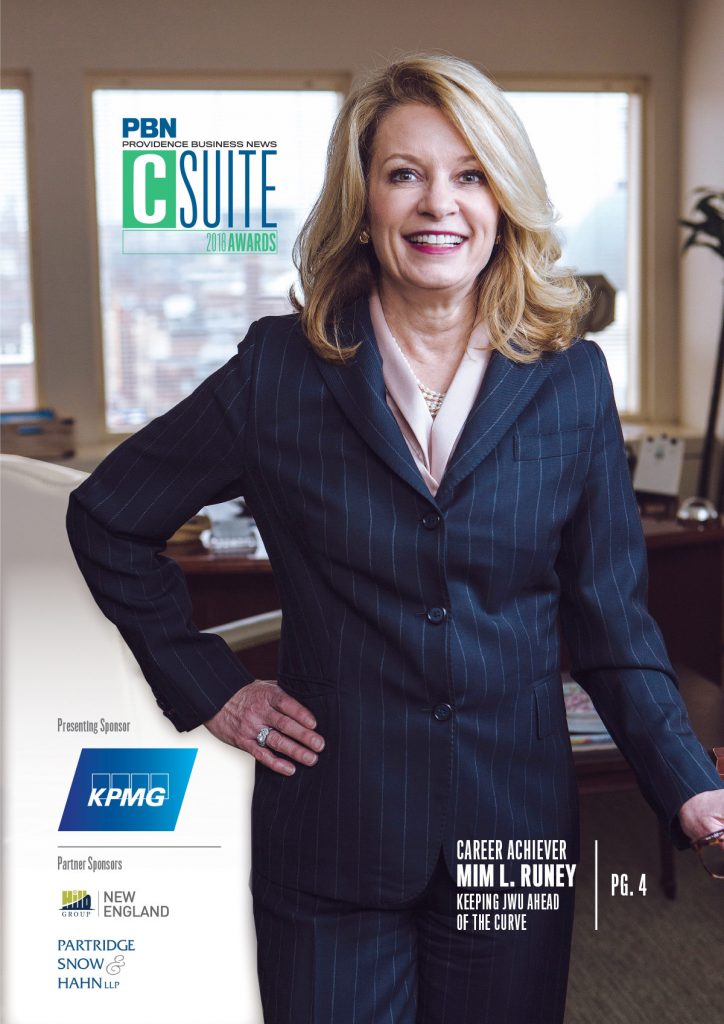 Opening and closing facilities represent the best and worst duties of a corporate executive. New facilities offer the opportunity to start fresh and, in general, tap into the optimism that starting a project engenders.
Closing a facility is a very public admission that something was not working. In some cases, the closure means leaving behind a location and its people, as well as the good you were able to accomplish while there.
Mim L. Runey, the Career Achiever in this year's C-Suite Awards program, has done both during her career at Johnson & Wales University.
Runey, chief operating officer of the system and president of its Providence campus, opened JWU's Charlotte, N.C., campus after closing its Charleston, S.C., and Norfolk, Va., campuses, a series of moves that have been a success, she says.
But for the university, and its chancellor, John J. Bowen, Runey's value can be seen in its increasing offerings, from its physician assistant program and the continuing evolution of its food-based curriculum, to name two. It's not just about learning how to be a chef at JWU, and the region looks forward to how Runey and JWU change the conversation about food (and the school).
As impressive as the rest of the C-Suite winners are – and they are – one of the most satisfying pieces of the program is our naming of a Rising Star.
One could make a strong argument that this year's Rising Star, HealthSource R.I.'s Chief Public Affairs Officer Kyrie Perry, deserves to be recognized for more than her potential. In a difficultyear for the Affordable Care Act, Perry was able to help Rhode Island's health insurance exchange not just survive but thrive.
As outside forces continue to buffet Rhode Island's health care market, it will be interesting to see what new ideas Perry brings to the discussion.
Returning as the presenting sponsor for the C-Suite Awards program in this, its third year, is KPMG. Partner sponsors are The Hilb Group of New England and Partridge Snow & Hahn LLP.
Mark S. Murphy
Editor