WARWICK – Providence Business News earned nine awards, including a pair of first-place honors, at the annual Rhode Island Press Association Editorial Awards Banquet at Chelo's Waterfront Bar & Grille.
The April 28 event recognized the best work produced by local newspaper organizations across the state in 2022 in various categories, such as photography, writing and design. The association also inducted two new members into the Rhode Island Journalism Hall of Fame.
PBN earned first place for general election coverage, which recognizes the best reporting about the 2022 election season. Among the stories RIPA recognized PBN for included reporter Jacquelyn Voghel's stories – the Aug. 19, 2022, cover story on how the gubernatorial election could change the state's economic development plan and the Oct. 28, 2022, cover story on the $400 million in bonds being put before voters on the ballot; reporter Claudia Chiappa's Sept. 16, 2022, cover story on how local businesses profited during the election season; former reporter Nancy Lavin's Aug. 5, 2022, cover story on whether or not Providence's next mayor will keep in place bold ideas pursued by former Mayor Jorge O. Elorza; and Special Projects Editor James Bessette's June 24, 2022, cover story on how Rhode Island's next member of Congress could make their mark in the U.S. House.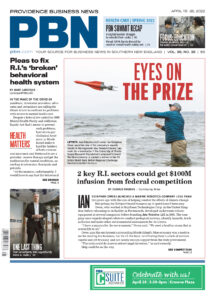 PBN's production team – Production Director Anne Ewing and Graphic Designer Lisa Harris – earned first place for Best Newspaper Front Page for its April 15, 2022, edition, with the cover story "Eyes on the Prize." The production team also earned third place in the category for its Jan. 21, 2022, edition with the cover story titled "Battle Lanes."
Lavin earned a third-place award for the "Battle Lanes" cover story, which focused on differing viewpoints about bike lanes in Providence, in the news story (in-depth) category and a third-place award for distinguished journalist, an award recognizing the state's best newspaper journalists.
Former PBN reporter Marc Larocque earned a pair of individual RIPA awards, one being a second-place honor in the business story category for his July 22, 2022, cover story on a growing labor union movement across Rhode Island. Larocque also received honorable mention in the news story (in-depth) category for his April 29, 2022, cover story on how the possible redevelopment of the Industrial Trust Co. Building – also known as the "Superman" building – could help downtown Providence's recovery.
Voghel earned an individual honorable mention in the science/health care story category for her April 1, 2022, cover story about whether or not Brown University's chance at having a bigger role in health care would end after the merger plans with Lifespan Corp. and Care New England Health System failed.
PBN also received a second-place award for best website, a new category introduced this year recognizing news organizations for their digital content. PBN reporter Christopher Allen also earned a second-place award in the news story (short) category for his work prior to joining PBN with Newport This Week.
Last year, PBN received seven RIPA awards. In December, PBN was recognized as "Newspaper of the Year" among specialty publications by the New England Newspaper & Press Association for a third straight year.
Also, during RIPA's April 28 event former Providence Journal Executive Editor Karen Bordeleau and former Connecticut Day Executive Editor Timothy Cotter were inducted into the Rhode Island Journalism Hall of Fame for their longtime contributions to local news. Olivia Barone, a Scituate resident and student at Rhode Island College, was presented with the $1,000 RIPA Scholarship.
The association also reelected Providence Media Editor-In-Chief Elyse Major and Valley Breeze Editor-In-Chief Ethan Shorey as board co-presidents. Sarah Francis, former Rhode Island Monthly editor, will remain with the board as treasurer.
Two new board members, Boston Globe reporter Carlos Munoz and Will Richmond, managing editor of communities, outreach and Rhode Island for The Providence Journal and executive editor of the Newport Daily News, were elected. Richmond replaces longtime RIPA board member Linda L. Levin as secretary and Munoz replaces Michael McDermott – who is now managing editor for the Worcester Telegram & Gazette – as the board's vice president.

Want to share this story? Click Here to purchase a link that allows anyone to read it on any device whether or not they are a subscriber.